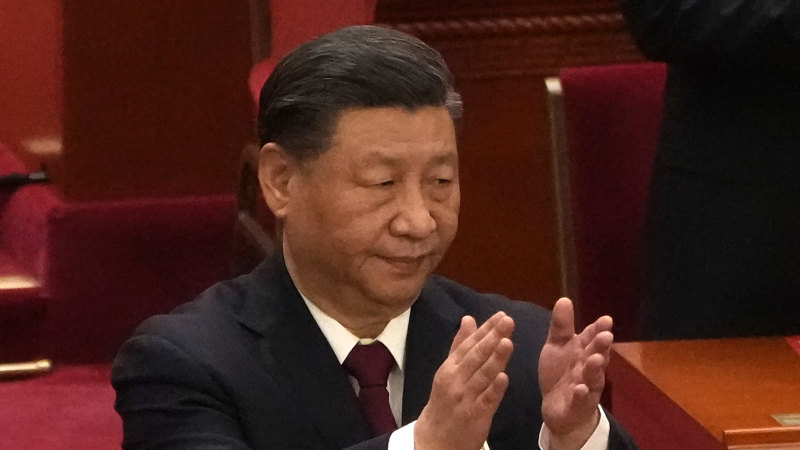 Loading
The ruling party will "treat enterprises of all types of ownership equally" and "support the development and growth of private enterprises," Li said.
"Our leading cadres at all levels must sincerely care about and serve private enterprises," he said.
Chinese officials earlier indicated anti-monopoly and data security crackdowns that knocked tens of billions of dollars off the stock market value of e-commerce giant Alibaba Group and other tech companies were ending. But entrepreneurs were rattled anew in February when a star banker who played a leading role in tech deals disappeared. Bao Fan's company said he was "co-operating in an investigation" but gave no details.
Li said Beijing will make a priority of job creation as it tries to revive economic growth that sank to 3 per cent last year, the second-lowest level in decades. This year's official growth target is "around 5 per cent."
The premier expressed confidence China can cope as its workforce shrinkage. The number of potential workers age 15 to 59 has fallen by more than 5 per cent from its 2011 peak, an unusually abrupt decline for a middle-income country.
Li said that while China is losing its "demographic dividend" of young workers, better education means it is gaining a "talent dividend." He said some 15 million people still enter the workforce every year.
"Abundant human resources is still China's outstanding advantage," he said.
Abroad, Beijing also has built on China's growing heft as the second-largest economy to promote trade and construction initiatives that Washington, Tokyo, Moscow and New Delhi worry will expand its strategic influence at their expanse.
Those include the multibillion-dollar Belt and Road Initiative to construct ports, railways and other trade-related infrastructure across an arc of countries from the South Pacific through Asia to Africa and Europe. China also is promoting trade and security initiatives.
Xi's government rattled the United States and Australia in early 2022 when it signed a security agreement with the Solomon Islands that would allow Chinese navy ships and security forces to be stationed in the South Pacific island nation.
Loading
The foreign minister, Qin Gang, warned Washington last week of possible "conflict and confrontation" if the United States doesn't change course in relations that have been strained by conflicts over Taiwan, human rights, Hong Kong, security and technology.
Xi's speech on Monday called for faster technology development and more self-reliance in a speech loaded with nationalistic terms. He referred eight times to "national rejuvenation," or restoring China to its rightful historic role as an economic, cultural and political leader.
Xi said that before the ruling Communist Party took power in 1949, China was "reduced to semi-colonial, semi-feudal country, subject to bullying by foreign countries".
"We have finally washed away the national humiliation, and Chinese people are the master of their own destiny," Xi said. "The Chinese nation has stood up, become rich and is becoming strong."
Xi also called for the country to "unswervingly achieve" the goal of "national reunification," a reference to Beijing's claim that Taiwan, the self-ruled island democracy, is part of its territory and is obliged to unite with China, by force if necessary.
AP with Reuters
Get a note directly from our foreign correspondents on what's making headlines around the world. Sign up for the weekly What in the World newsletter here.