Last year, nearby Solomon Islands signed its own security pact with China, a move that raised alarm throughout the Pacific. The US has increased its focus on the Pacific, opening embassies in Solomon Islands and Tonga, reviving Peace Corps volunteer efforts, and encouraging more business investment.
Loading
But some have questioned how reliable a partner the US is in the Pacific, particularly after Biden cancelled his plans to make a historic stop in the country to sign the pact. Biden would have been the first sitting US president to visit any Pacific Island country, but he ended up cancelling to focus on the debt limit talks back at home.
Blinken travelled in Biden's place, arriving in PNG early on Monday. In response to news of Blinken's impending visit, China warned against the introduction of "geopolitical games" into the region.
The US visit was timed to coincide with a trip by Indian Prime Minister Narendra Modi, who was hosting a meeting with Pacific Island leaders.
Modi pledged support for the Pacific Islands, telling the 14 leaders of the Forum for India-Pacific Islands Co-operation that India would be a reliable development partner to small island states, and was committed to a "free, open and inclusive Indo-Pacific".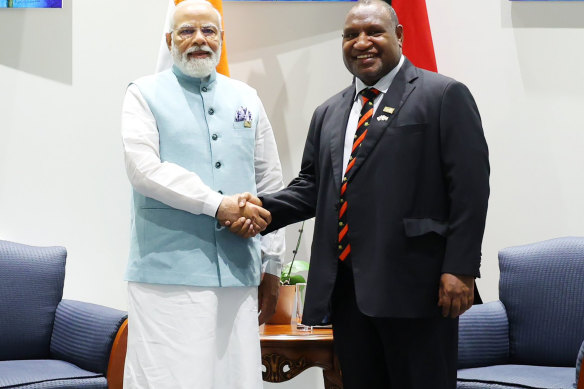 "Without any doubt we are willing to share our capabilities and experiences in digital technology, space technology, health security, food security, climate change and environment protection," he said in opening remarks.
Loading
Hipkins also met with Blinken while in PNG. He said he welcomed the greater US interest in the region but also drew a distinction to his own nation's efforts.
"We are not interested in the militarisation of the Pacific," Hipkins said. "We are interested in working with the Pacific on issues where we have mutual interest. Issues around climate change. And we're not going to be attaching military strings to that support."
Reuters, AP