This affection was on full, and at times disturbing, display last week when Trump appeared at a CNN-hosted Town Hall in New Hampshire. The crowd of Republican-leaning voters chortled and cheered as he called the female moderator, "nasty", labelled Carroll a "wack job" and said he would pardon many of those convicted for the January 6 storming of the Capitol.
But surely Biden would crush Trump in a general election? Not necessarily. The polling averages show Trump and Biden in a dead heat. That's remarkable when you remember that opinion surveys have usually underestimated Trump's appeal. The final 2020 election polls showed Biden outperforming Trump by 7.2 percentage points; in the end, Biden won the popular vote by 4.5 points. Thanks to the arcane Electoral College system, Trump would have won a second term if just 43,000 voters in three states had switched their support from Biden.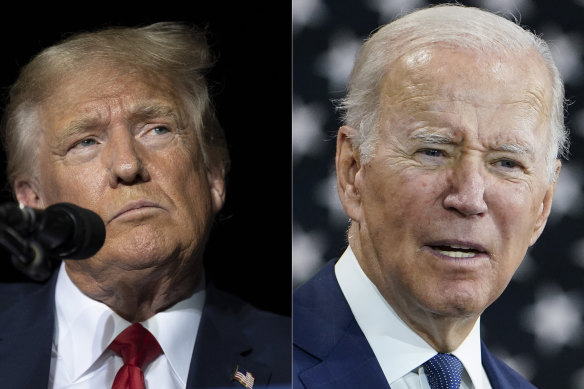 "It should be a pretty big wake-up call for Democrats," former Biden administration press secretary Jen Psaki said of Trump's CNN performance. "He has the evil charisma that people can hate but it is happening … This guy is on the path to be the Republican nominee and maybe, likely, give the president a run for his money."
To be sure, Biden would still be favoured to beat Trump. The Democrats performed surprisingly well at last year's midterms and there's no evidence Trump is any more popular with the moderate, suburban voters who cost him re-election in 2020. Young voters and women will be fired up over abortion rights and gun control.
But the 80-year-old Biden will likely appear even more frail in 18 months. He's weighed down by low approval ratings and an unpopular vice president in Kamala Harris. This makes a Trump return to the White House a serious possibility, one that Albanese and Washington ambassador Kevin Rudd need to be prepared for.
Loading
A resurrected Trump would feel emboldened to follow his instincts, making him more unpredictable and dangerous than his first term. America would again become a climate laggard and its support for Ukraine's fight against Russia would be in doubt.
The implications for Australia would be especially profound given how tightly enmeshed the two nations have become in response to China's rise to superpower status. A Trump tantrum about handing over America's precious Virginia-class submarines would unravel the AUKUS pact and leave Australia's maritime security badly exposed. An increasing number of Australians would question the long-term value of the US alliance.
If Biden has to miss next week's Quad summit, it will be a momentary disappointment for Albanese. A Trump victory in 2024 would be an almighty cataclysm. It's happened before and can happen again.
Matthew Knott is the foreign affairs and national security correspondent. Peter Hartcher is on leave.
The Opinion newsletter is a weekly wrap of views that will challenge, champion and inform your own. Sign up here.