Even Kyiv suggested that the Polish donation was of more symbolic than battlefield value. "It cannot be said that the MiG-29 aircraft will lead to any changes at the front," but rather are "simply strengthening our capabilities in Soviet technology," Ihnat said. "These are Soviet planes, like we have, only they've gone through certain modifications."
But, he said, it was a potential "psychological tipping point" that could encourage Ukraine's other supporters to follow up with additional aircraft.
Loading
Lieutenant General Mykola Oleschuk, commander of the Ukrainian air force, urged NATO to create a new program with the slogan "Victory on earth is made in the skies".
"I am appealing to you to step up efforts to provide the air force of Ukraine with modern multipurpose fighters … which are capable of effectively protecting our country from Russian air terrorist strikes, as well as providing powerful air support to ground troops, for the liberation and de-occupation of Ukrainian territory," Oleschuk said at an online NATO air chiefs symposium.
He compared the need for "coordinated actions of partners" on aircraft to January's agreement by at least half a dozen European countries to join a German-led consortium to send main battle tanks to Ukraine – a decision made, following months of fruitless Ukrainian appeals, only after Poland decided to send its Leopard 2 tanks and the US agreed to eventually provide M1 Abrams tanks.
Poland and Slovakia, which has also said it is ready to send Soviet-era jets to Ukraine, have called on other countries to follow their lead as part of an international coalition.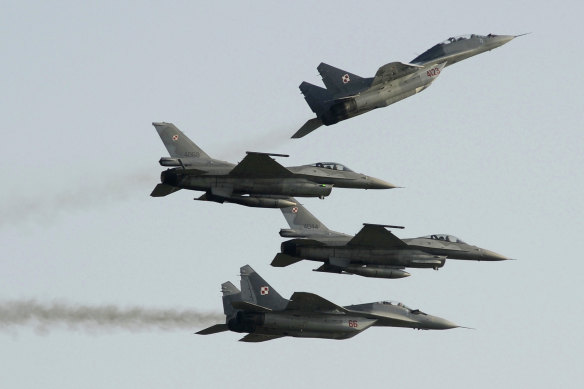 An administration official said that unlike the tank decision, which followed lengthy negotiations among allies – with carefully choreographed announcements – the timing of Duda's statement came as a surprise. There had been some discussions with the US embassy in Warsaw, and Poland's defence minister had told a virtual meeting of his counterparts among Ukraine donors of his government's decision but gave no indication when it would be announced.
Last month, Britain said that it would begin training Ukrainian pilots on fighter jets used by NATO, and the United States invited two pilots to visit an F-16 training site. Both British Prime Minister Rishi Sunak and French President Emmanuel Macron have said they have not ruled out contributing fighter jets to Ukraine, but suggested that nothing would be immediate.
Warsaw is in the process of upgrading its air force with South Korean-made FA-50 fighters and American-made F-35s. It has about a dozen of the MiG-29s available that are "mostly" functional, Duda said, adding that the remainder will be "serviced and prepared" before also being donated. Noting that Ukraine already has its own MiG-29s, he said Ukrainian pilots would be able to fly them without additional training.
Loading
Kirby said Poland was "really punching above its weight when it comes to supporting Ukraine". Its advocacy of sending fighter jets to Kyiv began just weeks after Russia's invasion on February 24 last year, when it began to discuss transferring some of the Soviet-era MiGs it had purchased decades earlier from East Germany. The Biden administration agreed at the time, with Secretary of State Antony Blinken saying that it would give a "green light" to the transfer and was in "active discussions" with Poland to backfill Warsaw's arsenal with F-16s.
But after initial talks faded, Poland abruptly announced that it planned to turn 28 of its MiGs over to the United States, and that the Americans could transfer them to Ukraine via its Ramstein Air Base in Germany. The White House balked, worried at that early stage in the war that Russia would see the arrival of jet fighters from a NATO air base – particularly an American base – as an instant escalation.
Although Ukraine continued asking for fighter jets, the issue had receded by last fall amid more urgent demands for air defence and tanks. But in recent months, top Ukrainian officials have continued to remind Western audiences of their desire for modern combat aircraft.
In an appearance before the British Parliament last month, Ukraine's President Volodymyr Zelensky gave the speaker of the House of Commons what he said was "the helmet of a real Ukrainian pilot. The writing on the helmet reads: 'We have freedom. Give us wings to protect it'."
The Washington Post