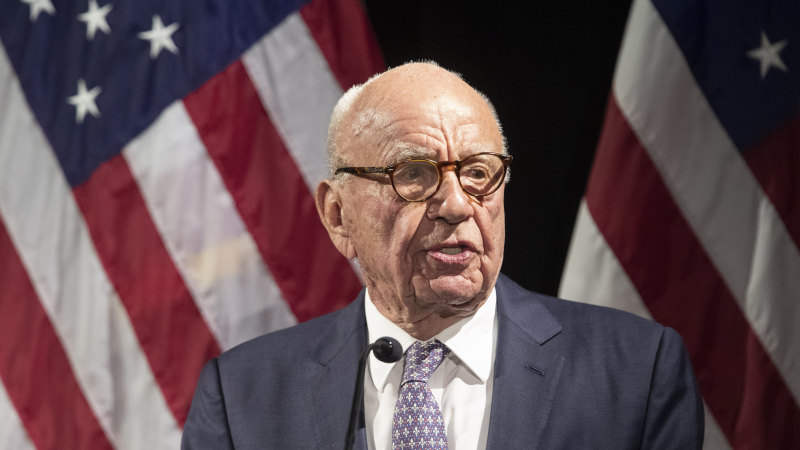 In an earlier exchange with Scott, Murdoch wrote that it had been suggested to him that the network's prime-time hosts say something like "the election is over and Joe Biden won," according to the filings. Murdoch told Scott that some version of this would "go a long way to stop the Trump myth that the election stolen".
According to Dominion's unsealed filings, Murdoch emailed a friend that the notion state legislators could change the election outcome – an idea then gaining traction on the right – "sound ridiculous. There'd be riots like never before."
"Stupid and damaging," Murdoch continued, referring to a news conference by then-Trump lawyer Rudy Giuliani. "The only one encouraging Trump and misleading him. Both increasingly mad. The real danger is what he might do as president."
These exhibits and other material included in Dominion's summary judgment motion are part of the voting machine company's effort to prove the network either knew the statements it aired were false or recklessly disregarded their accuracy. That is the standard of "actual malice," which public figures must prove to prevail in a defamation case.
Fox has said that Dominion's "extreme" interpretation of defamation law would "stop the media in its tracks" and chill freedom of the press.
Fox's exhibits include more context of testimony and messages that it says Dominion "cherry-picked" and "misrepresented" in its summary judgment filing.
For example, Fox cites additional testimony by Fox Corp co-chairman and chief executive Lachlan Murdoch, who said under oath that he was "concerned" but "not overly concerned" by declining ratings after the election.
Loading
Dominion has alleged Fox continued to push the stolen election narrative because it was losing viewers to right-wing outlets that embraced it.
In another exhibit, Fox News host Hannity – quoted by Dominion as saying he "did not believe" Trump lawyer Sidney Powell's claims "for one second" during a deposition – went on to say that during the interview he was giving her time to produce evidence but stopped having her appear on-air after she failed to deliver.
A Dominion spokesperson said in a statement that the "emails, texts, and deposition testimony speak for themselves. We welcome all scrutiny of our evidence because it all leads to the same place – Fox knowingly spread lies causing enormous damage to an American company."
The trial, set to begin on April 17, is slated to last five weeks.
Reuters
Get a note directly from our foreign correspondents on what's making headlines around the world. Sign up for the weekly What in the World newsletter here.