Hiroshima: The Quad will build undersea cable systems, fund infrastructure development and telecommunications networks across the Asia Pacific in an expansion of its remit designed to blunt China's growing influence in the region.
The announcement by Prime Minister Anthony Albanese, Japanese Prime Minister Fumio Kishida, Indian Prime Minister Narendra Modi and US President Joe Biden was coupled with a pledge to put south-east Asian nations and the Pacific Islands at the centre of its plans after a campaign by Beijing to paint the four nations as elite and out of touch with the needs of developing countries.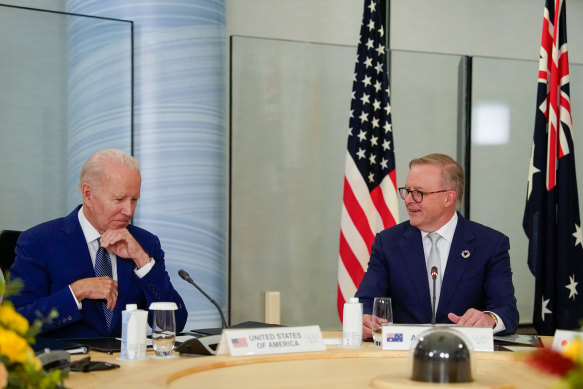 In a 3000-word statement that did not mention China, the four leaders took aim at its growing authoritarianism, Beijing's pursuit of territorial claims in the South and East China Sea, and economic intimidation.
"Our vision is for a region that is peaceful and prosperous, stable and secure, and respectful of sovereignty – free from intimidation and coercion, and where disputes are settled in accordance with international law," the leaders said. "Conscious that ours must not be an era of war, we remain committed to dialogue and diplomacy."
In his opening remarks, Kishida said the war in Ukraine showed the international security environment had become even more severe. "The open international order based on the law is under threat," he said.
The Quad, which began as a response to the 2004 tsunami and has transformed into a security grouping that surrounds China geographically and has prompted regional scepticism for its expansion of US power, said it would respect the leadership of the Association of Southeast Asian Nations, Pacific Islands Forum, and the Indian Ocean Rim Association.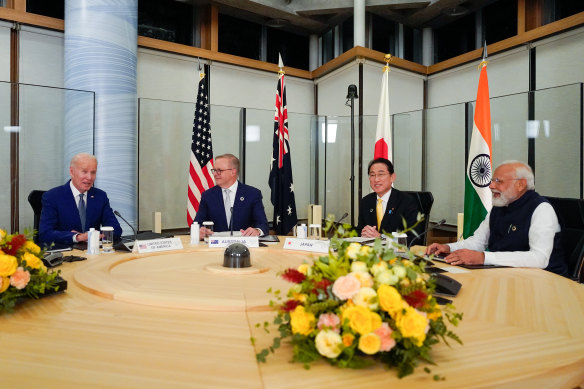 China's foreign ministry has described the Quad as "a tool to contain and circle China, and preserve America's hegemony."
But the four leaders were careful not to directly name Beijing on Saturday night in Hiroshima and did not respond to questions about whether concerns about China's rise were driving their decisions.