Saudi Arabia pledged $US400 million ($600 million) in aid to Ukraine earlier this year and has voted in favour of UN resolutions calling on Russia to end its invasion and opposing the annexation Ukrainian territory. But it has resisted US pressure to increase oil production in order to squeeze Russia's revenues.
Assad, a close ally of both Russia and Iran, said he hoped the summit would mark a "new stage of Arab solidarity" that would bring peace "instead of war and destruction." He added that Arab countries should reject "external interference" in their affairs.
A collective statement issued after the summit rejected any "illegitimate foreign presence" in Syria and supported the eventual return of Syrian refugees. It also condemned Israel's "crimes against the Palestinian people", called on Lebanon to overcome its political paralysis and encouraged dialogue in Sudan, where rival generals have been at war since last month.
In recent years, Assad's forces have recaptured much of Syria's territory from insurgents with crucial military aid from Russia and Iran. Saudi Arabia was a major sponsor of the opposition at the height of the war but pulled back as the insurgents were eventually cornered in a small pocket of north-western Syria.
"Saudi Arabia's push to bring Syria back into the fold is part of a broader shift in the kingdom's approach to regional politics," says Torbjorn Soltvedt, a leading Mideast analyst at the risk intelligence company Verisk Maplecroft.
Loading
"The previously adventurist foreign policy defined by the Yemen intervention and efforts to confront Iran are now being abandoned in favour of a more cautious approach," he said.
Assad's first official meeting on Friday was with his Tunisian counterpart, Kais Saied, who is waging his own crackdown on dissent in the birthplace of the Arab Spring protests that swept the region in 2011.
"We stand together against the movement of darkness," Assad said, apparently referring to extremist groups that came to dominate the Syrian opposition as the civil war ground on, and which drew large numbers of recruits from Tunisia.
The Saudi crown prince later welcomed each leader to the summit, including a smiling Assad. The two shook hands and kissed cheeks before the Syrian leader walked into the hall.
There are some Arab holdouts to Damascus' rehabilitation, including gas-rich Qatar, which still supports Syria's opposition and says it won't normalise bilateral relations without a political solution to the conflict. Qatar's ruling emir, Sheikh Tamim bin Hamad Al Thani, attended the start of the summit but walked out before Assad spoke, a Saudi official said, speaking on condition of anonymity because he was not authorised to release details of the proceedings.
The rapprochement with Assad gained momentum after China negotiated an agreement in March that saw Riyadh resume diplomatic ties with Iran, which with Russia has helped Assad defeat Sunni rebels and regain control of some major cities.
Western countries, which still view Assad as a pariah over his forces' aerial bombardment and gas attacks against civilians during the 12-year civil war, have criticised his return to the Arab fold and vowed to maintain crippling sanctions that have hampered reconstruction.
Years of heavy fighting involving Assad's forces, the opposition and jihadi outfits like the Islamic State group left entire villages and neighbourhoods in ruins. The conflict killed nearly a half million people and displaced half of the country's pre-war population of 23 million.
According to UNHCR since 2011, more than 14 million Syrians have fled their homes, and about 6.8 million remain displaced in their own country, where 90 per cent of the population live below the poverty line. About 5.5 million Syrian refugees live in neighbouring Turkey, Lebanon, Jordan, Iraq and Egypt.
American lawmakers advanced bipartisan legislation this week that would further tighten sanctions on Assad, who came to power in 2000 after the death of his father. But the White House National Security Council expressed concern Friday that the additional measures "would make it unduly difficult to provide humanitarian assistance to the Syrian people".
The US administration remains committed to a road-map to peace drafted more than a decade ago. But several rounds of peace talks held over the years went nowhere, and Assad has had little incentive to compromise since Russia entered the war on his side.
Arab leaders appear to be focused on more modest goals, like enlisting Assad's help in countering militant groups and drug traffickers, and bringing about the return of Syrian refugees, many of whom fled to escape his autocratic rule.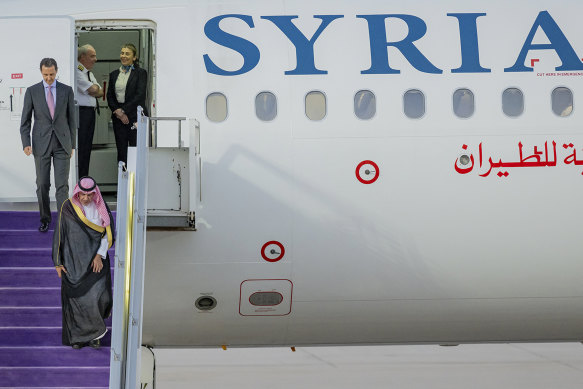 Asked about American criticism of the restoration of relations with Syria, Saudi Foreign Minister Prince Faisal bin Farhan said "there is no way to solve the Syrian crisis without a dialogue with the Syrian government".
"There is a humanitarian crisis. There are Syrian refugees who want to return to their country," he said.
AP, Reuters