It's also likely that the full extent of war crimes committed by both Ukraine and Russia won't be credibly investigated and possibly prosecuted until after the war finally ends.
It surprises me that arrest warrants would be issued for the abduction of Ukrainian children. In order to successfully prosecute this crime, investigators will need to show that not only did the alleged abductors take the children against their will, but that they also did not intend to return the children to their legal guardians. This can be more challenging to prove than other kinds of war crimes.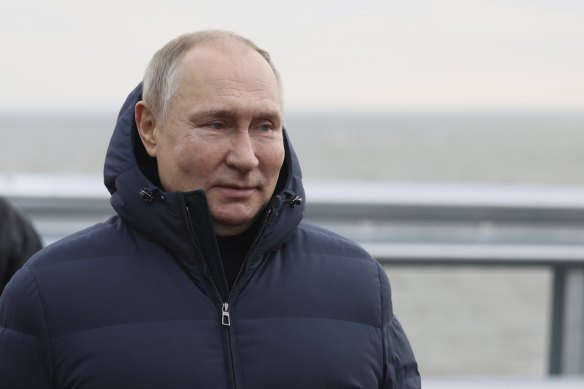 To put these upcoming indictments into perspective, it is also useful to remember that the International Criminal Court, an independent tribunal based in The Hague often known as the ICC, tends to focus on high-level cases that go after political leaders and is not tasked to provide answers to families of all victims.
Proving war crimes
War crimes, under international law, happen when civilians, prisoners of war, hospitals or schools – essentially anyone and anything that isn't involved in military activities – are targeted during a conflict.
The Ukrainian government and Donetsk People's Republic, a Ukrainian breakaway region occupied by Russians, have prosecuted and convicted both Russian and Ukrainian soldiers for war crimes since February 2022.
Ukraine has so far convicted 25 Russian soldiers of war crimes in Ukraine. These prosecutions raise questions about how evidence is collected and handled to support these cases – and about credibility.
Ukraine has a history of government corruption, and Donetsk is both not recognised internationally and is backed by Russia, which has a judicial system known to tolerate torture.
I investigate cases in which law enforcement, military and police are alleged to have committed crimes against civilians without accountability. In many cases, these alleged crimes happen during a civil war, like the Guatemalan civil war in the late 1970s and early 1980s, or the Rwandan conflict and genocide in the mid-1990s.
This means that I often work with international organisations like the United Nations to travel to these places and document physical evidence of war crimes – take photographs, take notes, do measurements and draw sketches to illustrate a potential crime scene. The idea is that any other experts can pick up this evidence and reach their own conclusions about what happened there.
Crime scene investigators like me generally do not determine whether a war crime was committed. That is a decision reserved for the prosecutor or a judge who is given the evidence.
Beyond political interests
Considering that this war is fought between Ukrainians and Russians – but involves other countries like the United States – any independent effort to investigate war crimes will raise questions of credibility.
In this context, one has to consider if an independent investigation and prosecution are even possible. The ICC is perhaps the best candidate, even though it is far from immune to political pressure, particularly from powerful countries.
Loading
The ICC has a specific mandate to go after people allegedly responsible "for the gravest crimes of concern to the international community." This includes genocide, crimes against humanity and war crimes. The forced transfer and deportation of a group of people is a war crime.
But the ICC isn't tasked with investigating the fate of victims on all sides of the war. This will take a separate effort, decades of work and cost a large amount of money, requiring the support of rich countries.
Since its inception in 2002, the ICC has indicted more than 40 people, all from Africa, and convicted 10 of them. While 123 countries are party to the ICC, meaning they have signed on to support its work, neither Russia nor Ukraine has ratified the treaty that allows the ICC to investigate crimes on their territories or by their forces.
Russia's foreign ministry responded to the March 17 announcement by the ICC by saying that the arrest warrant does not "have meaning" for Russia, since it is not a party to the ICC.
The US also never ratified the ICC's founding treaty, with the justification that it would not accept prosecution of US soldiers by a foreign court.
Ukraine, though, has given the ICC narrow jurisdiction to investigate crimes there since 2014.
In some cases, the ICC has not been able to successfully prosecute people even when it issues indictments. The court in 2009 and 2010, for example, issued indictments against Omar al-Bashir, former head of state in Sudan, for his role in carrying out genocide, and directing war crimes in Darfur. Yet, even though al-Bashir travelled internationally, no authority in any country he visited ever arrested him, despite the ICC's arrest warrant.
Proving abductions took place
Russian forces have moved at least 6000 Ukrainian children to camps and facilities across Russia for forced adoptions and military training, according to a March 2023 report by the Conflict Observatory, a program supported by the US State Department.
Showing sufficient evidence that Russia forcibly abducted the children and did not intend to return them to their legal guardians would likely involve the children's family members giving witness statements. That is unless the ICC's prosecutor has obtained Russian military documents or communications that clearly indicate that these are involuntary abductions.
Contrast this with trying to prosecute Russian military commanders and leaders for conducting multiple bombings of nonmilitary sites in Ukraine, such as hospitals or schools. It would be relatively simple to provide evidence that the attacks on these places constituted war crimes, as long as there is no evidence that these sites lost their protected status under international law, such as evidence that a bombed hospital or school had been used for military purposes.
The victims
War crimes involving massive numbers of casualties leave behind a multitude of surviving family members, all of whom have the right to know the fate of their loved ones.
But it is important to remember that the ICC's prosecution of any war crime will not extend beyond the individual arrest and prosecution of soldiers and political leaders. The court is not responsible for repatriating children to their respective families.
AP
Stefan Schmitt is a forensic scientist with a background in crime scene investigations and forensic anthropology at Florida International University's Global Forensic and Justice Centre. He has worked for International Criminal Tribunals for Rwanda and the Former Yugoslavia.
Get a note directly from our foreign correspondents on what's making headlines around the world. Sign up for the weekly What in the World newsletter here.