The role of Russian media in Moldova would grow and Russian would be made a regional language by that year.
Moscow was also hoping to "neutralise" Moldova's efforts to kick out Russia's military base from Transnistria.
The memo was drafted by the same presidential directorate on cross-border cooperation that penned a similar document for Belarus that outlined its effective annexation with the input from Russia's intelligence community.
Moldovan authorities have not commented on the memo, but the country's Prime Minister Dorin Recean, who assumed office also last month, said it confirmed his fears that the Kremlin has been using Russian state TV, widely available in Moldova until recently, to brainwash citizens.
"Thirty-something years of propaganda – we see the effect of it now," Recean was quoted by Dossier as saying.
"I would be very happy if people in Moldova saw this document."
Moldova is Europe's poorest country and Russia has bankrolled some political groups there for years.
John Kirby, spokesman for the US National Security Council, said last week the Kremlin was seeking to "destabilise" the government in Chisinau, the Moldovan capital, "probably with the eventual goal of seeing a more Russia-friendly administration".
"More specifically, Russian actors, some with current ties to Russian intelligence, are seeking to stage and use protests in Moldova as a basis to foment a manufactured insurrection against the Moldova government," he said.
In recent months Moldova has witnessed sustained anti-government protests funded by pro-Russian tycoon Ilan Shor who was convicted of fraud in connection with the world's biggest ever bank heist in the country.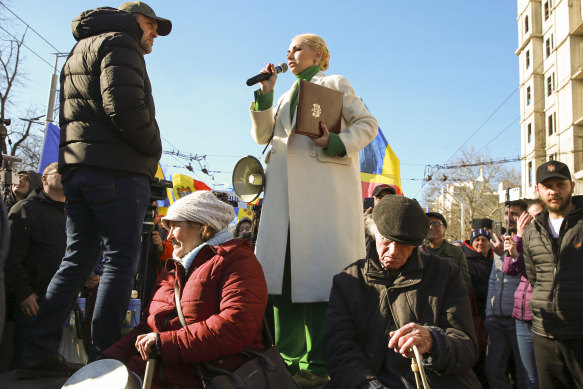 The political party founded by Shor, who was found guilty of siphoning off $US360 million ($542 million) from a local bank in 2014, has been bankrolling the protests that tap into widespread discontent with galloping energy prices and low living standards.
Shor is one of the three people convicted of bank frauds costing Moldova 10 per cent of its annual GDP.
Loading
Sandu, a former World Bank employee hailed for her anti-corruption credentials, last week accused the Kremlin of plotting to topple her government, saying Moscow has been "training people disguised as civilians to carry out violent acts, attacks on government buildings and taking hostages".
The Telegraph, London