"Indonesia's standpoint is clear that [our archipelagic sea lanes] cannot be used for activities related to war or preparation of war or non-peaceful activities," said Tubagus Hasanuddin, a senior member of the ruling Democratic Party of Struggle (PDI-P) and of Indonesia's parliamentary committee overseeing foreign affairs, defence, and intelligence.
Loading
"Now about AUKUS. It is not a [forum] for training, it is like a defence pact, just like NATO but of a smaller scale, [created] to face the Chinese activities in the Pacific. It means the vessels are the inseparable parts of AUKUS.
"It definitely is related head-to-head [rivalry] with the Chinese maritime powers. It means it is not a peaceful means so that Indonesia will reject [them sailing through its waters]."
Hasanuddin, a retired two-star army general, added in an interview with The Sydney Morning Herald and The Age: "As long [vessels are] made not for war, it is no problem. For instance, the [US] Seventh Fleet passes for patrol, for exercises, it is no problem. But AUKUS is created for fighting."
Muhadi Sugiono, an international relations expert at Indonesia's Gadjah Mada University, also believes the submarines should be denied access under the Southeast Asian Nuclear Weapons Free Zone Treaty even though they will not be armed with nuclear weapons.
"It is not categorised as a nuclear weapon but it is related to war equipment," he said. "The nuclear fuel for the subs is of weapons grade."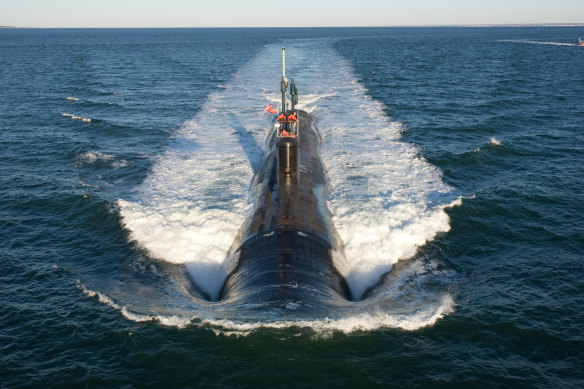 Australia's submarine ambitions have been better received by the likes of Singapore and the Philippines in the past 18 months, but Malaysia has also expressed concerns about the prospect of extra firepower in its vicinity.
On Tuesday night, Malaysia's Ministry of Foreign Affairs released a statement saying its position hadn't changed, although it said it appreciated Australia, the US and UK sharing updates on the future outlook of AUKUS.
"Malaysia acknowledges the needs of countries in terms of enhancing defence capabilities taking into account respective requirements and concerns. Nevertheless, Malaysia's position on AUKUS remains," said the statement.
"Malaysia reiterates as a matter of principle the importance of all parties within and beyond this security partnership to fully respect and comply with the existing Malaysia's national regime in relation to operation of nuclear-powered submarines in our waters, including those under the 1982 United Nations Convention on the Law of the Sea (UNCLOS), the Southeast Asia Nuclear Weapons Free Zone Treaty, and the ASEAN Declaration on the Zone of Peace, Freedom and Neutrality.
"Malaysia further underscores the importance of promoting transparency and confidence-building among all countries, and refraining from any provocation that could potentially trigger an arms race or affect peace and security in the region."
Gilang Kembara, a researcher at the Centre for Strategic and International Studies, believes Jakarta's response on Tuesday reflected more acceptance of the much-vaunted technology transfer.
"As long as the three countries respect international laws, there should be no [serious] impacts, as long as all is carried out in a transparent manner," he said.
Loading
But while the Australian government's efforts to consult Widodo, as well as other regional leaders, may have helped tone down Indonesia's official rhetoric, apprehension remains.
"While it's unlikely that the Albanese government's consultations with regional countries will have changed their minds about AUKUS, it should help prevent the very negative initial response from Indonesia in 2021," said Susannah Patton, the South-East Asia program director at the Lowy Institute.
"Indonesia expects to be consulted on major defence and security announcements."
Get a note directly from our foreign correspondents on what's making headlines around the world. Sign up for the weekly What in the World newsletter here.