Le Pen, who lost the presidential election to Macron last year, said it was a fully blown political crisis.
"This is a total failure for the government and Emmanuel Macron personally, and the government must be sanctioned. It has lost the confidence of this assembly and the population," she said.
Prominent hard-left opposition politician Jean-Luc Mélenchon was among protestors to gather on La Place de La Concorde in Paris.
He said Macron had gone "over the heads of the will of the people" with decision to legalise it by degree, calling it a "spectacular failure".
The leader of the conservative Les Républicains (LR) party, Eric Ciotti, said his party's MPs would not vote to overthrow the government. Macron had hoped on LR's backing to vote for the bill, but a number of MPs had defied the party's leadership to oppose it.
Under Macron's pension changes, the minimum general retirement age will increase from 62 to 64, some public sector workers will lose privileges and there will be an accelerated increase in the number of years of work required to qualify for a full pension.
France spends 14 per cent of its gross domestic product, the measure of the quantity of goods and services produced, on public pensions, nearly double the OECD average. Without changes in the retirement age, it's estimated that would increase to 15.5 per cent by 2050. His proposal is for the change to take effect by 2030.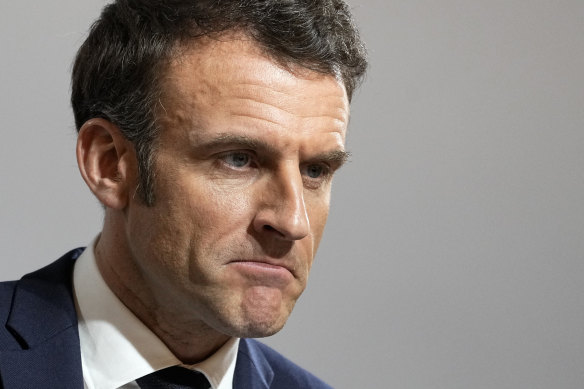 Several published polls show that two-thirds of the French oppose the pension changes, with transport workers, energy workers, dockers, teachers and public sector workers having held several nation-wide strikes in recent weeks.
A continuing rubbish-collection strike has led to more than 7000 tonnes of waste building up across half of Paris. Rubbish collectors currently work until they are 57, because of difficult employment conditions. Under the reforms, they would have to continue until they are 59.
The chaos could potentially derail Macron's second-term agenda, which has been complicated by his party losing legislative elections in June.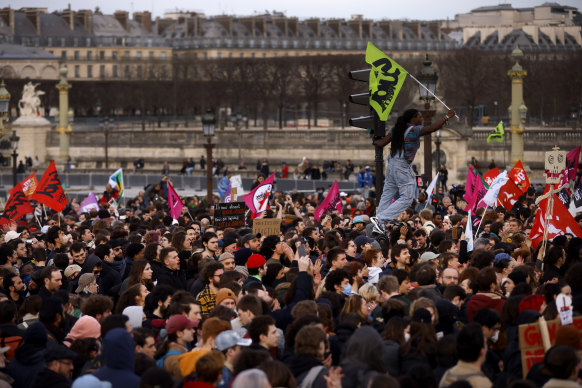 Loading
His centrist alliance has 250 MPs and needs to win over opposition politicians to reach 289 votes, or convince some to abstain to secure a majority. The government has now resorted to using special powers 11 times during this parliamentary session, making it the second-most frequent user of the tactic since 1958 when the Fifth Republic began.
The failure to pass the pensions bill raises questions over his ability to win support from other parties for further reforms he has promised on everything from immigration to fighting climate change.
Get a note directly from our foreign correspondents on what's making headlines around the world. Sign up for the weekly What in the World newsletter here.