Blantyre, Malawi: Mozambique and Malawi are counting the cost of Tropical Storm Freddy, which has killed more than 100 people, injured scores and left a trail of destruction as it ripped through southern Africa for the second time in a month over the weekend.
Freddy is one of the strongest storms ever recorded in the Southern Hemisphere and could be the longest-lasting tropical cyclone, according to the World Meteorological Organisation.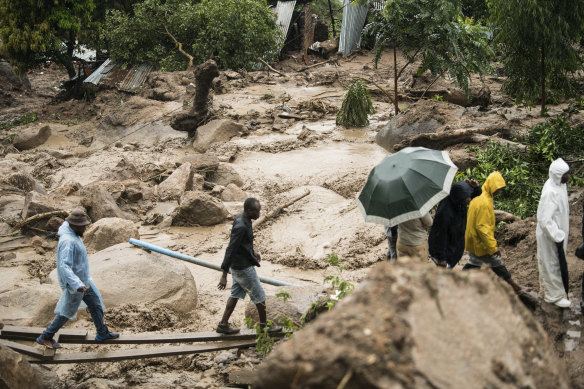 It pummelled central Mozambique on Saturday, ripping roofs off buildings and bringing widespread flooding around the port of Quelimane, before moving inland towards Malawi with torrential rains that caused landslides.
The full extent of the damage and loss of life in Mozambique in particular is not yet clear, as the power supply and phone signals were cut off in some parts of the affected area.
The storm has killed 99 people in Malawi, including 85 in the main commercial hub of Blantyre, said the commissioner of the Department of Disaster Management Affairs, Charles Kalemba, at a press briefing.
The total number killed by storm Freddy in Mozambique, Malawi and Madagascar since it first made landfall last month is now around 136.
Loading
Casualties were still arriving from affected areas, said Chipiliro Khamula, spokesperson for the department of disaster management.
Police spokesperson Peter Kalaya said rescue teams had been looking for people in Chilobwe and Ndirande, two of the worst-affected townships in the country's second-largest city Blantyre, where it was still raining on Monday and many residents were without power.