Controversial anti-trans campaigner Kellie-Jay Keen-Minshull has been escorted away by police from a rally in New Zealand before she could speak after she was met by an angry crowd.
Crowds, mainly consisting of trans-rights supporters, had gathered in Auckland's Albert Park ahead of Keen-Minshull's appearance, which came on the back of her highly controversial visit to Australia.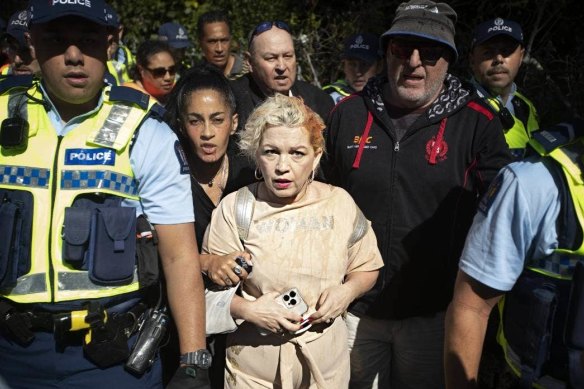 A small fight broke out as Keen-Minshull made her way through the barricade to speak to the crowds. She was escorted out again shortly before 11.30am, as crowds booed at her. She appeared to have been pelted by tomato soup.
A Stuff reporter at Albert Park said from the moment Keen-Minshull entered the barricade, tension between the groups, separated by a ring of barricades, started to boil over.
It took just 3-4 minutes before every side of the barricade had collapsed and counter-protesters had made their way through to surround Keen-Minshull.
No police could be seen inside where the barricades had stood, and less than 10 security guards worked to keep the crowd from overrunning the band rotunda.
It took only a few more minutes before crowds managed to climb over and Keen-Minshull was surrounded on all sides.
A group of four security guards formed a human shield around her for 10 minutes as the crowd slowly pressed forward.