CNN drew in 2.3 million primetime viewers off the back of the event Wednesday last week, but shed most of that audience the following evening when only 538,000 primetime viewers tuned in.
By Friday, it had an average 335,000 viewers during its three-hour primetime bloc, placing it behind Fox News, MSNBC and fringe right-wing outlet Newsmax.
Trump branded the town hall as a ratings success for the centre-left network, while Licht defended the broadcast as CNN's journalistic duty, telling concerned staff last week: "If someone was going to ask tough questions and have that messy conversation, it damn well should be on CNN."
"We all know covering Donald Trump is messy and tricky, and it will continue to be messy and tricky," he said. "But it's our job."
However, Amanpour told her audience of aspiring journalists: "We know Trump and his tendencies, everyone does. He just seizes the stage and dominates no matter how much flak the moderator tries to aim at the incoming. It doesn't often work.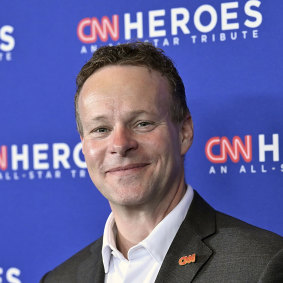 "For me, I would have dropped the mic at 'nasty person,' but then that's me. I've been in the ring for a long time with many of these people."
"I can only hope that your trust in us might have been shaken but not shattered," she added.
Trump is currently the frontrunner to win the Republican nomination to run for president again next year, although the race is likely to tighten next week when Florida Governor Ron DeSantis is expected to announce his intention to also run.
But with 18 months until the presidential election, the question of how to cover Trump – who is a ratings magnet but a known liar – will continue to confound parts of the mainstream media.
Loading
Amanpour, who is the Chief International Anchor for CNN and one of its most respected reporters, is the most senior anchor to criticise her network's decision. She was the face of CNN's international coverage in war zones such as Bosnia, Iraq, and the Persian Gulf in the 1980s and 1990s.
Earlier, CNN host Anderson Cooper delivered a monologue on his program telling viewers they would not be served by "only listening to people you agree with".
However, others were outraged by Trump's appearance, such as former police officer and CNN contributor Michael Fanone, who was at the US Capitol during the 2021 insurrection. He penned an op-ed entitled "CNN Is Hosting a Town Hall for a Guy Who Tried to Get Me Killed."
"Sometimes things are exactly as they appear, and this appears to be an attempt by a major media outlet struggling with its ratings to attract disenfranchised viewers," he wrote.
Get a note directly from our foreign correspondents on what's making headlines around the world. Sign up for the weekly What in the World newsletter here.