Alemayehu died at 18 from pleurisy, a lung condition. At Victoria's request, he was buried at St George's Chapel, in Windsor. His epitaph reads: "I was a stranger and ye took me in".
Loading
But such a narrative of colonial kindness has been challenged in recent years, particularly in the context of a bloody war. While the expedition of 13,000 British army soldiers was initially intended to rescue European hostages held by Tewodros II, it also led to mass plundering and looting after Britain won, much of which ended up in London museums, including the British Museum. Many Ethiopians now describe Alemayehu as a prince who was "stolen" from his home country as a child.
The Ethiopian government has since made formal requests for the return of Alemayehu's remains, as have descendants of his family.
"We want his remains back as a family and as Ethiopians because that is not the country he was born in," his great-great-cousin Fasil Minas told the BBC this week. "The fact that he was buried there is meaningless and it was not right."
Ethiopian-American author Maaza Mengiste has described Alemayehu's predicament as a "kidnap" that resulted from "imperialist arrogance".
"There is no viable reason to continue to hold his remains hostage. He has become, like the sacred and valuable objects still in British museums and libraries, a possession," she said.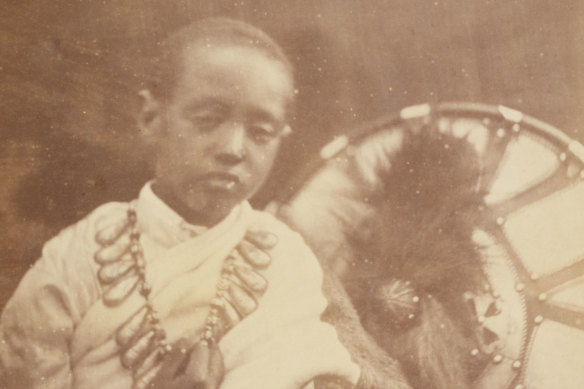 Buckingham Palace this week formally refused another request for the remains, this time from the prince's family, saying any movement was likely to affect other bodies at the burial site.
"It is very unlikely that it would be possible to exhume the remains without disturbing the resting place of a substantial number of others in the vicinity," it said in a statement.
Loading
It said chapel authorities were "very sensitive to the need to honour the memory of Prince Alemayehu", but had to balance that with a "responsibility to preserve the dignity of the departed".
It added that on previous occasions it had "accommodated requests from Ethiopian delegations to visit" the chapel "and will continue to do so".
Ethiopia's Foreign Ministry called Alemayehu a "prisoner of war" in a statement to The Washington Post. "We believe Prince Alemayehu deserves a decent burial in his home country," it said, adding that "the Government of Ethiopia remains committed to redouble efforts to realise the repatriation of the remains … as well as several looted items from Magdala, which are of great historical, cultural and religious significance to Ethiopians."
For many Ethiopians, Buckingham Palace's words do little to make up for Britain's colonial past and what they say their prince suffered. Kearyam Agegnehu Yideg, an accountant from Addis Ababa, said she was "devastated" by news of the refusal, as were "many fellow Ethiopians".
"He died of a broken heart," she continued, calling it "unforgivable" that "even in death he's being kept like a keepsake".
Loading
Even Queen Victoria, in a diary entry in 1879, appeared to acknowledge the lonely situation Alemayehu was caught in.
"Very grieved & shocked to hear by telegram, that good Alamayou had passed away this morning. It is too sad! All alone, in a strange country, without a single person or relative belonging to him … Everyone is sorry," she wrote, after she learnt of his death.
The request for repatriation comes at a time when many Western countries and institutions are grappling with how to address their colonial-era actions.
Members of the royal family have at times addressed Britain's imperial past and condemned slavery as "abhorrent", but have not apologised for the British monarchy's role in it. In April, King Charles III indicated that he was supportive of a research project into historical links between the monarchy and transatlantic slavery. Campaigners have urged Buckingham Palace to launch a fuller investigation and to apologise for the monarchy's role in the country's colonial past and slavery.
Britain and some European countries have returned looted art and indigenous items to their original nations – but they've stopped short of paying financial reparations.
The Washington Post
Get a note directly from our foreign correspondents on what's making headlines around the world. Sign up for the weekly What in the World newsletter here.