Rio de Janeiro: Former Brazilian president Jair Bolsonaro will be called to testify as part of an investigation into accusations he tried to illegally bring $US3.2 million ($4.8 million) of jewellery into the country.
"We have enquiries in progress, hearings taking place, and at some point, the former president will be subpoenaed," Justice Minister Flavio Dino told reporters after an event in Rio de Janeiro.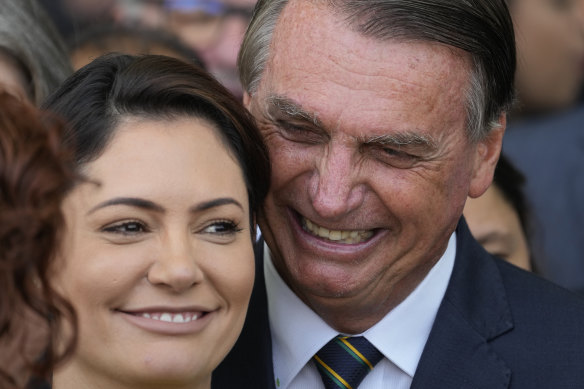 Luxury jewellery gifted to the then-president and his wife, former first lady Michelle by the Saudi government was seized by customs officials in October 2021. A former spokesperson for the presidency tweeted documents saying the items had been turned to the country's official collection as per protocol. Bolsonaro has previously denied any wrongdoing.
The diamond necklace, ring, watch and earrings, made by Chopard of Switzerland, were found in the backpack of a government aide who had travelled to Riyadh with then energy minister Admiral Bento Albuquerque.
Several officials from the Bolsonaro administration unsuccessfully tried to recover the jewellery from customs, according to local media.
Loading
Brazilians are allowed to import $US1000 of goods or gifts when returning from overseas. Hefty taxes apply for anything over that value.
There was no date set for Bolsonaro to be subpoenaed, the minister said, adding that if the former leader – who is in self-imposed exile in the United States – failed to testify, Brazil "may or may not" seek international legal cooperation.
On Monday, Bolsonaro's lawyer said in a letter to the police that the former president would deliver accounts to a court of a second gift he received from the Saudi government.