"Here, there are no miracles," Andoni Iraola tells Sky Sports with a smile. But what the Rayo Vallecano manager has achieved during his three seasons in charge of one of LaLiga's smallest clubs, on a budget dwarfed by those of their rivals, can't be too far off.
Rayo, with their crumbling, three-stand stadium squeezed up against tower blocks in a residential corner of Madrid, were stuck in the second tier two years ago. Now, they are fighting to qualify for Europe for only the second time in their 99-year history.
Barcelona have been beaten – not once but three times – and so have Real Madrid. It is some going for a side promoted via the play-offs as the sixth-best in Segunda. Especially when you consider all but two of their starters this season were part of that team.
Rayo have only paid transfer fees for six players in three years under Iraola and those fees average just £2m. There have been loans and free-agent signings – Radamel Falcao among them – but otherwise the manager has worked happily with what he had.
"I think I have been lucky because I have found a group of players willing to achieve big things since my first day here," adds Iraola, speaking over Zoom from the club's training ground.
"In the end, the players have the level they are showing. It is true that it is difficult to show it every single week and maintain it against opponents who, market-wise, probably have more value. But we are showing we have players who can play against the better teams."
They have the manager too. Iraola's work at Rayo has earned him a reputation as one of Spain's best and most exciting coaches. In February, long before they turned to Sam Allardyce, Leeds United tried to appoint the 40-year-old as Jesse Marsch's replacement.
"I was really pleased that they thought of me as an option to coach there," says Iraola. "I talked to Rayo Vallecano, who obviously were the ones who had to make the decision, and I understood also that Rayo wanted to continue with me."
The club's hierarchy ultimately dug their heels in, determined not to lose him in the middle of the season, and Iraola made no attempt to force the issue. Was there, though, any sense of frustration on his part that the timing did not line up?
Jamie Carragher analyses Sam Allardyce's tactical changes in his first game in charge of Leeds
Iraola shrugs. "You cannot think in things that could have happened," he says. "It was what it was.
"I think it was a very open decision. We talked to the club, and Leeds were also very open with Rayo Vallecano. We talked for one day, 'OK, it's not the moment, it's over.' It is nothing more than that.
"I am very pleased that they thought of me as an option, but I am also very happy here working for Rayo Vallecano. I hope they finish the season well, but right now we are doing well, so we are not thinking too much about that."
It remains to be seen whether Leeds will come back in for him at the end of the season. There is the small matter of Premier League survival to worry about first. But Iraola, despite his admiration for English football, is not thinking that far ahead anyway.
I am very pleased they thought of me as an option, but I am also very happy here working for Rayo Vallecano. I hope they finish the season well.
"I think that, right now, the Premier League is probably the top league, because in the end it's about budget, about money, and right now they are by far the richest league. But I don't know if later I will have the chance I want [to manage there].
"As managers, we can't make long-term plans. OK, you are doing well now, so you have options. But, probably, you will start losing games, and those options will start to disappear.
"We have to think short-term. I have to think about the next training session, the next game, about my things here in Rayo Vallecano, and then let's see what happens.
"It doesn't make sense to think from here to three, four or five years. If I am doing things well, probably I will have the option someday [to go to the Premier League]. But if things don't go well, probably I will have to think in other options.
"You just have to think in the present – and my present is really good. I'm really happy with the club, with the players I am coaching, and I am still in this learning process. That is where I am focused."
Bielsa influence and offensive 'disorder'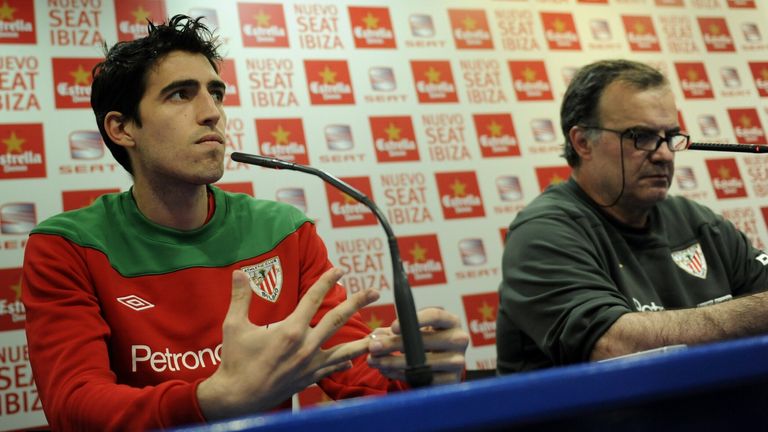 The links with Leeds were tantalising for the club's fans given Iraola's history with Marcelo Bielsa. The former right-back played under him for two years during his time in charge of Athletic Club Bilbao and counts the former Whites boss, who has just been named Uruguay's new head coach, as one of his biggest influences.
"I was very lucky to play for him for two seasons as a player," says Iraola. "I think he has another vision of football. They were two very good seasons for us, and, for me, it was a different knowledge.
"I use a lot of exercises from Marcelo that I learned from him. I use a lot of things, especially with the ball. Offensively, his teams are very dynamic. He is willing to make all the runs to the space, he is ready to accept this kind of disorder, offensively."
Iraola now places that offensive "disorder" at the heart of his own philosophy. Like those of Bielsa, his Rayo players are drilled to tear into opponents as quickly and directly as possible.
Ander Murillo, his friend, former team-mate and sporting director of AEK Larnaca, the Cypriot club where Iraola took his first senior job in management, describes his football as "rock and roll". It is a description which brings a chuckle from Iraola but it fits.
"It is true that we like, and we perform better, in high-tempo games," says Iraola. "We need to run a lot. We don't need so much control, not in every single play, but I think we have the legs, we have the willingness, to go up and down."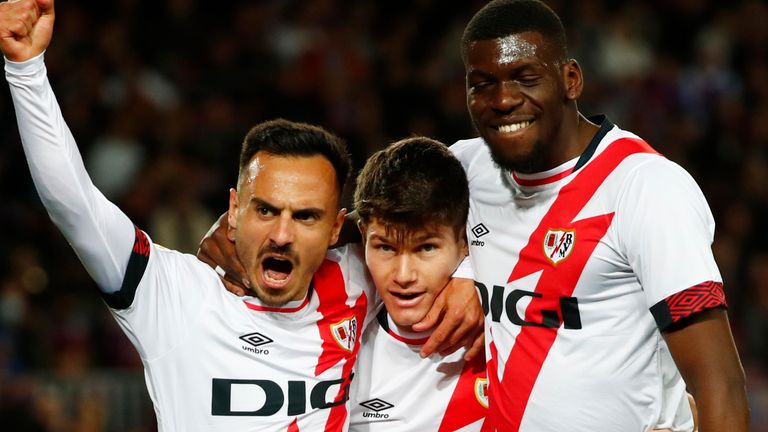 It is pointed out that Rayo can play, too. Real Madrid boss Carlo Ancelotti talked up their "beautiful football" earlier this season and the statistics put them eighth in LaLiga in terms of possession.
"It is not something we are trying to find because I think are much better without the ball," says Iraola. "We are recovering and regaining possession very high and that is why we have so much time on the ball, but it is not something we like.
"I think we have to take risks when we regain. I don't like this 'security pass', as they say, to play with the 'keeper, to start building from the back. You have to do it sometimes, but it is not what identifies us. We are dangerous in fast attacks, when we recover possession as high as we can.
"I think we can find more goals that way than building from the back. Sometimes we score starting from the 'keeper, with a lot of passes, but the amount you score like this is a lot lower."
Iraola still regards the season he spent honing his knowledge of that side of the game under Patrick Vieira at New York City FC as a crucial step on his path into management. "He is a very, very good coach and he showed me another point of view," he says.
But his preference was always for full-throttle football and that can now be seen in the ferociousness of Rayo's pressing.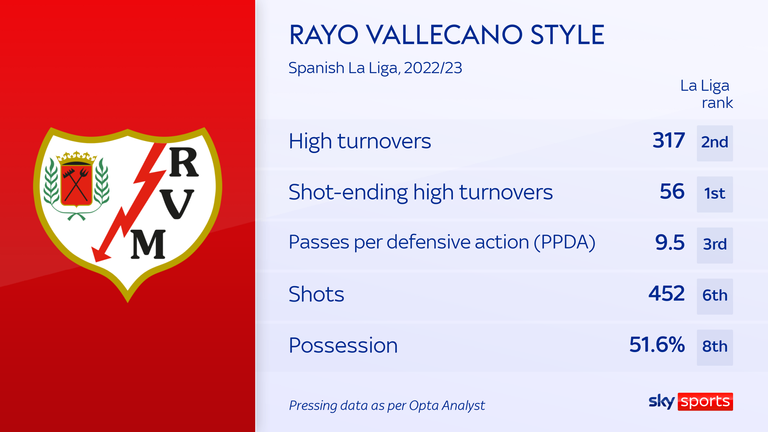 According to Opta, they rank top in LaLiga for high turnovers leading to shots this season and third behind Real Sociedad and Barcelona in terms of PPDA, which measures the average number of opposition passes a team allows per defensive action.
Iraola's approach differs from Bielsa's in that he does not use a man-to-man marking system. "We try to press high, to be aggressive without the ball, but with a different kind of structure."
He is, however, similarly demanding in terms of what he expects from his players out of possession. "I think you have to be demanding," he says. "Marcelo was really demanding with the players. It is the only way to achieve big goals and explore your limits."
At Rayo, one of Spain's last 'neighbourhood clubs', centred in the traditionally working-class and fiercely anti-establishment district of Vallecas, it is also a means of connecting with supporters.
"We represent a neighbourhood that likes to play this way," says Iraola. "It is kind of the identity that Rayo fans have. They are a lot of hard-workers. They love to feel this identification on the pitch and it is what they demand of the players. It is what we have to give them."
The synergy makes for a special atmosphere inside their 14,708-capacity home and Iraola regards chemistry and togetherness as crucial too. His enduring trust in the players who earned Rayo promotion draws further parallels with Bielsa at Leeds.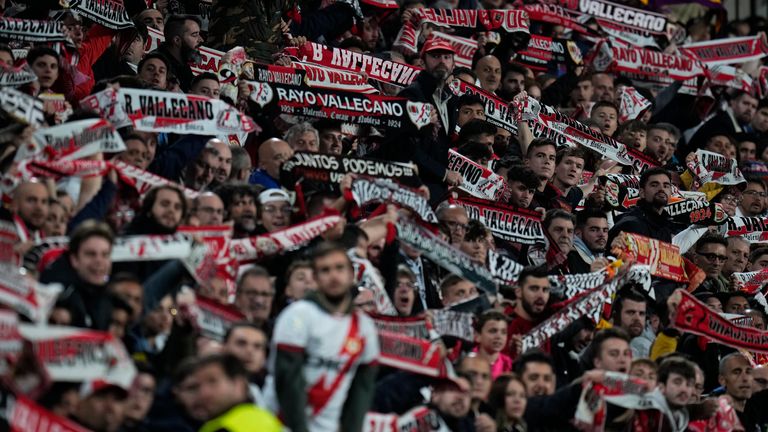 We represent a neighbourhood that likes to play this way. It is kind of the identity that Rayo fans have. They are a lot of hard-workers. They love to feel this identification on the pitch.
"Chemistry is key to pass through difficult periods, to continue pushing, to think more collectively," he explains. "We have experienced what it is to play in the second division – a difficult, difficult division, so we want to continue playing against best teams in the world.
"To do that, we have to prove it every single week. It is not, 'OK, last week, we did a very good game, now we can rest.' No. You have to prove it in every single training session, in every single season.
"That is what this group of players are doing."
And, as impressive as it may be, Andoni Iraola – Leeds United's one who got away – will be first to tell you that it is no miracle.