Highlights
In 1930, Rambabu Khandelwal of Agra started the paratha.
Traveled from one arrival to a plate of Rs 180.
Pandit Jawaharlal Nehru, Indira Gandhi and Atal Bihari Vajpayee have also tasted Rambabu's paratha.
Rambabu Parathe made a place in the marriage of Abhishek Bachchan-Aishwarya Rai and Sonam Kapoor.
Report – Harikant Sharma
Agra. Whenever it comes to the taste and food of Agra, without mentioning the name of Ram Babu's Paratha, it cannot be complete. The taste of Ram Babu Paratha is not only in Agra but also on the tongue of the people of the country. In the last 92 years, Rambabu's paratha has traveled from Agra to Parliament and from Parliament to London. Jawaharlal Nehru, Indira Gandhi and Atal Bihari Vajpayee have also tasted Ram Babu's paratha. Not only this, the people of London have also enjoyed the taste of this paratha. Apart from this, there will hardly be any leader who has come to Agra and has not tasted Rambabu's paratha.
Rambabu Khandelwal started paratha in 1930. He was accompanied by his younger brother Hari Shankar Khandelwal in business. Now after his departure, his third generation Kamal Gupta is taking this business forward. Kamal Gupta says that Rambabu's paratha, which started at the cost of one anana, has traveled till the Golden Jubilee of Parliament. Parathas of Agra also made their place in the Golden Jubilee to be held in the Indian Parliament. Apart from this, on the demand of Lakshmi Mittal (Steel King), who is also of Indian origin from London, during a program, Rambabu's parathas spread their taste in London. With this Kamal told that when his uncle Rambabu Khandelwal started this paratha in 1930, it used to cost only one anana, but now it is a plate of 180 rupees.
It has also been included in the marriage of many famous people.
You can guess the fame of Rambabu's paratha from the fact that his paratha has become a part of the wedding of many Bollywood celebrities. This includes the wedding of Abhishek Bachchan-Aishwarya Rai and Sonam Kapoor. At the same time, recently this cricketer has also increased the taste of guests in Deepak Chahar's wedding.
Paratha is prepared on a 40 kg griddle
Harishankar Gupta explains that this paratha is cooked on a low flame on a 40 kg tava. Because of this, the paratha does not burn and becomes very tasty. At present, more than half a dozen parathas including potato, paneer, onion, peas, fenugreek, mixed vegetables are the first choice of people. Even today paratha is prepared completely with pure country ghee. This is the reason that till now the taste of this paratha is still on people's tongue.
quality remains intact
There is no compromise on the quality of the paratha. Along with paratha, three vegetables, pickle, papad raita etc. are given. To maintain the quality of paratha, even today you have to go to the shop and enjoy Rambabu's paratha. After the paratha cools down, its taste may change. For this reason, the facility of ordering paratha sitting at home online has not been given yet.
Belanganj is the oldest shop of paratha
The oldest shop of Shri Ram Babu Paratha Bhandar is in Belanganj. Apart from this, there is also a branch in Sikandra and Fatehabad Road in the city. In other cities, franchisees of Ram Babu Paratha Bhandar are open in Vrindavan, Jaipur, Manesar, Gurgaon etc.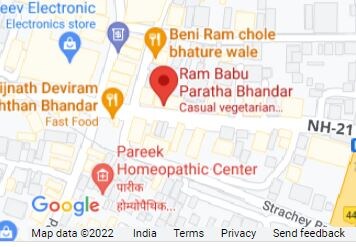 Be the first to read breaking news in Hindi News18 Hindi | Today's latest news, live news updates, read the most reliable Hindi news website News18 Hindi |
Tags: Agra news, Atal Bihari Vajpayee, Pandit Jawaharlal Nehru, Street Food
FIRST PUBLISHED : September 20, 2022, 09:40 IST